ALEXANDRA KING - COUTURE DRESSES, ACCESSORIES AND VINTAGE CLOTHING
Discover the beautiful world of designer Alexandra King's one of a kind gowns and accessories. Each piece is designed and hand crafted from her small studio in Somerset, UK.  
Alexandra King is a small independent British fashion designer and womenswear brand. Each dress is hand crafted by Alexandra and each vintage piece hand selected for its beauty, design.. and sometimes frivolity.
'Being conscious and ethical is at the heart of everything I do, never producing too much or too fast. It's all about creating special pieces that are treasured for life times.' 
READY - TO - WEAR COLLECTION
One of a Kind dresses, gowns and accessories. Each piece is designed and hand crafted at the studio in Somerset UK.
VINTAGE
Original vintage evening wear and accessories. Each piece is selected for its beauty and in keeping with the Alexandra King design aesthetic. Carefully restored to be timeless once again.
BRIDAL & BESPOKE
Choose from our collection of beautiful, one of a kind couture wedding dresses designed and made by Alexandra King.
A bespoke version of each dress can be designed for you and made by dressmaker Anna Vickery.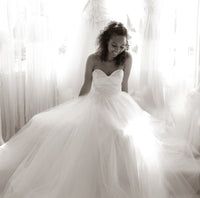 We have worked with brides Worldwide to create the most special of gowns perfectly suited to each individual and setting.

Lovingly designed and hand crafted in Somerset over months, we love making dresses that fulfil all your dress dreams.
We are able to offer an in house design service working one to one with Alexandra on your dress design and styling.
And a bespoke dressmaking service with Anna Vickery allowing you to create your own custom dress in your choice of colours and fabrics.

Finally there is an alteration service for any of our dresses and vintage collection.
Testimonials
... when I walked down the aisle he couldn't believe how beautiful I looked - and I was just so happy and confident. It was a great feeling to be the most beautiful woman in the world.

Nicky, London
... my favourite image of the night was running barefoot from the taxi at 4.30am across the rainy pavement, sequins flowing out behind me ...

Joanna, Wells
I was absolutely stunned with what you created. It was the best thing I've EVER worn and better than I could have imagined. I was showered with compliments all day!

Charlotte, London
CONTACT
If you cannot find the answer to your questions here on our website please email alexandra@alexandra-king.com 
Studio Address (not open to the public):
Alexandra King , Waterfront Farm, Biddisham Lane, Biddisham, Somerset, BS26 2RS United Kingdom  
Telephone: +44 7841 718877
Ready to wear and accessories designed and hand crafted in Somerset.
Tracked deliveries worldwide
Bespoke Design and alterations service available